Youth Show "God's Love" For Puerto Rico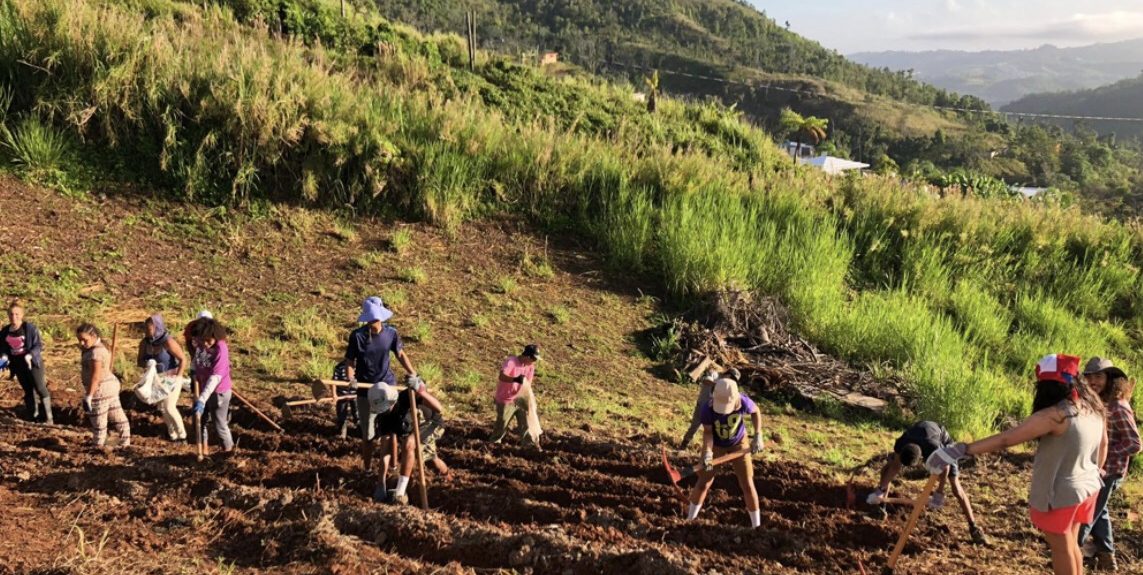 By Lelah Tekhna
Staff writer
Before leaving Manhattan to help rebuild some of what Hurricane Maria tore down in Puerto Rico, 11 youth from Middle Collegiate Church researched what they might expect to see.
Even so, Christian Unthank, 13, said nothing prepared those kids from that East Village congregation for what they saw. "This was my first service trip outside the U.S. and my first trip to Puerto Rico," Unthank said. " … Many had no hot water, heat, electricity and no access to a grocery store … [This was] an experience that you couldn't get from seeing only negatives from a screen­­; [it was] an experience of camaraderie for a noble cause to help our fellow humans."
On July 1, the group of 12- to 16-year-olds arrived at Proyecto Matria, a nonprofit serving single moms in Puerto Rico that also helps organize volunteer efforts like Middle Collegiate's.
The kids, said Edna Benitez, the Middle Collegiate member who organized and chaperoned the trip "got a little taste of what it's like to get up at 6 a.m. and work the fields … And what it's like to be outside of touristy areas. And they learned what the issues are where the real people live."
Benitez, who has relatives in Puerto Rico, continued: "I've taken several [adult] groups to PR but the youth were more vulnerable, open and honest. They wore their emotions on their sleeves. The kids are amazing and exceeded every expectation I had. I'm so proud of them."
In Miraflores, Orocovis, the youth used pick-axes and hoes to break up the soil to help lay irrigation lines. They planted pumpkin seeds and harvested black beans.
During lunch, they met community leaders, learned the history of Puerto Rico and its struggle to be its own country, instead of a U.S. territory. They learned local dances such as bomba, and ate local foods.
""It was big feast of music, dance, singing, with a big barbecue … The exchange of music helped them overcome the language barrier," Benitez said.
This last mission trip to Puerto Rico was her eighth journey to help since the 2017 storm.It took more, she added, to plan a trip for young people, rather than adults. For the kids, there were parental consent forms, dietary restriction, safety and other concerns to consider, she said, along with "basically, making sure they are doing the right thing,"
The young volunteers are aware that many Puerto Ricans don't have power and don't know where their next meals will come from, despite civilian and government efforts to help. "Most people are aware that people were struggling before the hurricane. Now, it's like struggling on steroids, with the lack of [U.S.] government support," Benitez said. "The separation of the haves and have-nots continues to become greater in PR. In terms of the economy in Miraflores, it was below the poverty level before the hurricane and took a devastating decline afterwards."
With all of that in mind, said youth volunteer Christian Unthank, "It felt good to do good. Middle Church's message is universal love. This was a way to show our love for [Maria's victims] and God's love for them."
---